When I do get around, I write about it. If you want to read exclusively about my visits to United States presidential sites, you can do that over here.
Travel: Missouri
I have been shown a great deal of the Show Me state, and not all of it appears on this page. You can read more at the Harry Truman page, the U.S. Grant page, and the writeup of Nerdcation 2011.
---
Kansas City
May 10, 2010
I'm going on record: I like this town. The downtown is totally dead on a Friday night, and that's the level of excitement Chris White looks for in a Midwestern town -- a place where I can get free street parking, indulge my stupid hobbies and not feel constantly intimidated. Everyone I met was very pleasant and polite, even the guys wearing sleeveless shirts. They didn't seem thrilled about me showing them up with my fancy sleeves, but they were nice enough to tolerate me and not call me gay to my face. So, the intinerary:
After checking out Truman's home, I zipped back along US-24 to Lincoln Cemetery to see KC's own Charlie Parker. He was an excellent drug addict and an even better saxophonist, but in the end the heroin won. I've gotten a lot of enjoyment from his recordings in the last decade, and he's also inspired me to lay off the horse, so I figured I'd pay my respects. Simple marker, VERY simple cemetery, and of course absolutely no one else around, which reinforces that no one in the universe shares my hobbies. It's sort of a miracle that I'm getting married in three months. Take heart, lonely people.
From there it was down to the 18th and Vine district, which used to be a hot spot of the jazz scene. Now, it's two blocks with only one live music venue, and absolutely no bustle at all. All the storefronts nearby are empty or on the verge of being empty. They have a pretty new museum complex with an American Jazz museum, and a museum of the Negro Leagues. They're very interesting, but they are also in financial trouble, because very few people appreciate that old black people are our most precious cultural resource. I only had time for one, and I already know everything about jazz, so I went with the Negro Leagues museum (full report below). It was pretty cool.
But I needed more. I had purchased a map at the Truman Library which marked all the significant KC sites in Truman's life. So I headed to the completely quiet downtown, and the former site of Truman's failed habadashery. It sucked. But it was next to the Muelebach Hotel, where the "Presidential Suite" has been home to just about every POTUS since Theodore Roosevelt (Truman actually signed the "Truman Doctrine" into existence there). I could not get into the Presidential Suite, since a prom was going on in the ballroom, and a history-conscious 17-year-old had probably rented it in the hopes of losing his virginity in the same room where Warren Harding groped one of his many mistresses. But I did get to see the (now unused) historic old lobby, which was a blood-filled elevator short of "The Shining."
I thought I might try out the Savoy, which was Truman's favorite restaurant, but as it turns out, it's mostly for rich old white people in blazers. So instead I went to John's and had a cheeseburger. It was mostly empty at around 7 p.m., and the people there were watching a Royals game, which is always depressing. But it was a great burger. I also had a Fat Tire to drink. If you know a bicycling enthusiast, and they know about Fat Tire, they will never ever shut up about it. Apparently 5 cents of every beer goes to a special fund for crippled bikers who intentionally rode the wrong way on a one-way street along the center line, running every red light and stop sign along the way, until they were cruelly struck by idiot drivers who have no respect for bikers. Whatever the politics, it was a pretty good beer.
And on my way back to the car, I got to enjoy something that made me truly happy. There are certain ugly realities of life: taxes, housecleaning, parking garages. You can't do much but accept the ugly and keep plugging. But every now and then, someone finds a way to make the ordinary extraordinary. This is a parking garage in downtown Kansas City attached to a public library, and it's made to look like a giant bookshelf. Awesome.
I had a fine time in Kansas City, and while I'm sure I'm not picking up on scads of racial and economic tension that will tear that town apart, I look forward to returning one day with friends. Just as soon as I get some friends, in fact.
---
A Brief History of the Negro Leagues by a Guy Who Only Had 30 Minutes to Go Through the Negro Leagues Museum in Kansas City's 18th and Vine District Last Friday and Did Not Take Any Notes
May 10, 2010
OK, so, baseball was invented. And EVERYONE loves to play baseball -- black, white, yellow, purple -- it's really a sport that transcends all racial barriers. Not gender barriers, though, because women can't play baseball for crap.
But unfortunately, baseball was invented at a time when a lot of white people were jerks, or at least hung out with enough jerks that they couldn't really be cool. Like, they WOULD have had black guys on the team, and then had beers with them afterward, but the dude who brought the ball was usually a total a-hole and wouldn't let anyone play if a black guy touched the ball. One of those guys was named Cap Anson, and you generally don't mess with dudes named after an article of clothing. So even the nice white guys were like, "Hey, man, I totally would be there for you, but if I don't play some baseball I gotta spend the next three hours with my wife. And you've seen my wife. It's the late 19th century! All the women are hideous and never show cleavage!"
So the black guys were like, "This sucks!" or, "I'm really tired of being the target of racially motivated mob violence!" and they just figured out they could play the game on their own. They weren't all that organized, but this guy named Rube, or something like that -- he was built like Michael Duncan Clark, only shorter -- got a buch of dudes together at a YMCA in Kansas City, seemed to have a reasonable business plan, and they made a league out of all the teams. It's important to note that every important sporting event between 1850-1950 took place at a YMCA, even though the only sports action at a YMCA these days is recent divorcees playing one-on-one for lettuce sandwiches. Oh, plus they played anyone else who would pay them on the side, often times resulting in octuple headers.
But the racism was still pretty bad. Sometimes, whole teams pretended to be Cuban and spoke jibberish on the field, because white people would treat black Cubans better than African-Americans. But the jerky white people got wise to that, I think, and decided to treat all Cuban people just as poorly as they treated blacks. Man, white people make me angry sometimes.
Anyhow, the Negro Leagues in their various incarnations were intermittently successful, since America loves sports, and black spectators needed something to do when they weren't being denied admission to movie theaters or lunch counters. I cannot emphasize enough how big of a d*** white people were being at this time. They also had some night games, which was pretty revolutionary at the time. And there were some really big stars. Everyone pretty much agrees that the biggest star was Satchel Paige, who in addition to being a great pitcher (his leg kick was such that he actually kneed himself in the face on every pitch) loved money. Seriously, he was huge into self promotion and would play for whoever paid him the most. In that sense he was considered the "Ludacris of the Negro Leagues." Later on, he actually joined the major leagues, even though he was dying of old age (42), and he was good enough that he helped the CLEVELAND INDIANS win the pennant. That's right, he was so awesome he made the INDIANS into winners. That's talent.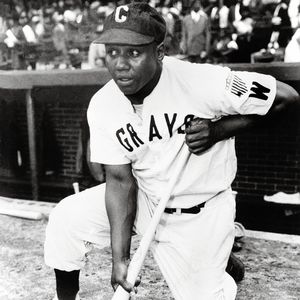 Another very good player was this guy Josh Gibson, who was a catcher. Some people called him "The Black Babe Ruth" -- not because he was fat from eating smoked meat products and loved hookers, but because he had a lot of power. By some estimations, he might have hit 800 homers playing in barnstorming games or Negro Leagues play, which would make him the greatest home run hitter ever. You know what? Let's give him the record. He suffered enough in life. Not just from racism -- he spent most of his career in Pittsburgh. One time, when his team was playing a game in Yankee Stadium, he knocked a ball into the 17th deck just by staring at it very hard. He was intimidating, is the point.

There were also some "clown" teams, but they were controversial. Yes, they made people laugh at racial stereotypes, but they weren't dignified, like the Harlem Globetrotters. A few of them let women pitch, which I think we can all agree IS NOT FUNNY and a disgrace to the game.

So, these teams go up and down, and a lot of the players suffer through racism on a national scale as they travel. But after World War II, enough white people started feeling crappy about being mean to black people, who had helped fight Hitler. A few years after that, Jackie Robinson was hand-picked to break the color barrier. Once everyone realized that black people were also dominant at baseball, rich white guys -- who as a rule love money more than they hate non-whites -- figured they could make a buck off the black players, and the Negro Leagues faded away.

The Elite Giants, the Kansas City Monarchs, the Indianapolis Clowns -- they are gone now. But their memory lives on in a Kansas City museum, and in the gift shop, where you can buy replica jerseys for something like $250. Although, if you're a 30-something white guy wearing a $250 Negro Leagues jersey, even out of respect, it seems like you're trying too hard. Black people won't be impressed with you; they'll just think that you'll want to talk to them about jazz to feel better about yourself. Don't be that guy.