When I do get around, I write about it. If you want to read exclusively about my visits to United States presidential sites, you can do that over here.
Travel: Pennsylvania
There is surprisingly little to see in Pennsylvania related to my birth or childhood. I guess that will have to wait until I'm gone. Also, you can get your learn on regarding George Washington and James Buchanan and Dwight Eisenhower. If you're into that sort of thing.
---
Pittsburgh: The Mattress Factory
April 16, 2008
On Saturday my favorite older brother and I went to The Mattress Factory, Pittsburgh's outpost for installation art.
With installation art you get some really cool stuff, like the house poem shown to the right, and James Turrell's eye-bending light-based works. Who the hell knows what it means, but a floating red cube made of light is AWESOME, and I want one.
But you also get works from Black Moth Super Rainbow, a Pennsylvania-based "experimental" band whose members are named, really, Father Hummingbird and The Seven Fields of Aphelion. If you had to guess who would have the stranger piece of art based on name alone, you'd have to say The Seven Fields of Aphelion, right? Nope! He (she? it?) had a cool display of double-exposed photographs. Father Hummingbird, on the other hand, created a naked doll with a huge phallus constantly urinating into a McDonald's cup, to demonstrate his "love/hate relationship with biochemically-enhanced foods." Obviously.
The Mattress Factory is called that because ... well, it used to be a mattress factory. Here's a view of the exterior, and then the Pittsburgh skyline from one of the outdoor landings.
---
Pittsburgh: PNC Park / Andy Warhol Museum
April 8, 2012
If you smell the hope and frustration in the air, that's because it's BASEBALL SEASON! I got my personal season off to rip-roaring start this weekend with a visit to Pittsburgh to see the Phillies play the Pirates. There is no better way to spend a Saturday night in April than sitting in 40 degree weather, watching your favorite team lose 2-1 in 10 innings. It sets a tone.
My brother Dave, who lives in Pittsburgh, Was an excellent host as always. We started off our day at the Andy Warhol museum, just blocks away from the baseball stadium. Did you know Andy Warhol was from Pittsburgh? Sure, most of his drug-fueled abuse of pop culture happened in New York -- but the upbringing that drove him to a life of sexualized, pseudo-depraved creativity happened in Pittsburgh. It's a fine museum, sullied only by the fact that it costs $20. No one wants to be the guy staring at art and saying "I could do that." But in the case of Andy Warhol, you really could do most of it, and the fact that you just paid $20 creates enough of a red haze that it's sometimes tough to appreciate the finer qualities of his work. But still, ask yourself these questions as you view Andy Warhol's art:
1) Does the elevation of commercial icons and celebrity images celebrate the universal parts of our culture or mock our deteriorating tastes?
2) What drug do you think he was on for each piece of art?
Having been to the Andy Warhol museum before, I was most interested in one of the temporary exhibits. The artist photographed autistic children, who have difficulty associating facial expressions with emotions. Each kid posed for a "baseline" picture. Then they were shown an image (a dog, a nuclear explosion, a sick person in bed, etc.) and asked to make the face that they thought would be appropriate. All three images were shown together. I have nothing amusing to add here; it was just really neat.
After a nice dinner, we adjourned to PNC Park, which is arguably the finest stadium in all of baseball, probably because it hasn't been beat up by years and years of huge crowds. HEYOOOOO! In all seriousness, it is a lovely place to see a game. The dark-blue steel construction is uniquely suited to Pittsburgh's history; the distinctive downtown is just beyond the outfield fence; and the in-game presentation is both clever and professional. Example: to get the crowd excited about the distribution of hot dogs via pneumatic cannon, they played a 40-second rap video about catching hot dogs. Some lyrics for you: "Put your hands in the sky / and let that meat fly / catch that meat." Someone was saying on the radio the other day that if the Pirates ever had a winning team, it would easily be the best place to see a game in all of baseball. I think it's pretty hard to disagree. I mean, check out the statues!
That first one is Roberto Clemente, who played something like 18 years for the Pirates. In the last game of his career (which was the last game of that season) he surpassed Honus Wagner for the most games played in Pirates history; he also recorded hit No. 3,000 (he hit exactly 3,000). Then he died in a plane crash going to help earthquake victims in some godforsaken hellhole that has earthquakes. Nicaragua, I think. Happy stuff! The second one is Bill Mazeroski. The pose you are seeing is from when he crossed home plate after hitting the winning home run in game 7 of the 1960 World Series. Either that, or he was on fire while fleeing zombies. One of those.
After the game, of which we must never speak ever again, we got to enjoy the fireworks. Because the Pirates are not very good, over the years they have turned to a wide variety of promotions to boost attendance. Sometimes it is bobblehead doll giveaways; sometimes they have a public stoning of harlots on the infield; other times (at least once a year, in fact) they hire Styx to play a post-game concert, and then allow fans to stone the band. As Pittsburgh is also home to the finest fireworks company in America, they often tote a barge up the Allegheny River and use it to shoot off a bunch of rockets. So we saw some stuff blow up, then we walked over the beautiful bridges to get back to the the car.
---
Pittsburgh: Mr. Rogers' Neighborhood / The O
November 9, 2009
This weekend, in need of a little getaway, the girlfriend and I hopped in the car and drove to the Neighborhood of Make-Believe:
Your eyes don't lie -- that's Mr. Rogers' Neighborhood! We were in Pittsburgh for a family event, and WQED (the nation's first public TV station, where all the episodes were filmed) just happened to have the set on display for one weekend only. And sadly, next weekend it will all be leveled to put up the Luxury Condo Towers of Make-Believe. X the Owl was tased five times when he refused to unchain himself from the tree. Daniel Tiger mauled three construction workers. UGGA MUGGA NOOOOOOOOOOOOOO!
I kid! I watched Mr. Rogers quite a bit when I was a kid, before children's television started slumming for that 1-3 A.D.D. demographic (the kids with all the money). This struck me as something that would be fun to see. Apparently the same thought struck about 4,000 other people in the Pittsburgh area, because it was packed. We got there at 9 to find a line snaking around the parking lot. Since it was 70 degrees, we decided we'd wait for awhile.
And wait. And wait.
It took about two hours to get into the building, which isn't to say the parking lot wasn't entertaining. Most people were on great behavior, but there was a white trash family ahead of us who, facing the choice between scratch-off lotto tickets and medicating their kids, went for the gold. Taking their ownership stake in "public" television very seriously, we watched the kids trample several flowerbeds and then dry-hump a small statue of a dinosaur near the entrance of the building. Yes, on Nov. 8, 2009, I saw a young boy grind on the tail of a T-Rex (dressed like Fred Rogers) for about three minutes. You often wonder when you're going to see the birth of a new fetish, and I look forward to the Discovery Health special dedicated to this kid in 2025.
Also entertaining: Purple Panda, Mr. Rogers' attempt to reach out to the children of 1970s acid users, walked through the parking lot. Most kids were OK with it, but one girl (dressed in purple, oddly enough) had a complete breakdown. She started screaming to her dad how she wanted the panda to go away, for about five minutes. This both confirmed my long-held belief that Purple Panda was freaky and amused me a great deal. Everybody wins!
Finally, in the true spirit of everything that Mr. Rogers taught, we saw a woman get into a shouting match with a security guard when he tried to keep her from joining the line (the exhibit closed at 5 and she wasn't going to get in). Who could forget the great Mr. Rogers song, "I Drove 4 Hours for This, Go to Hell!" Sometimes, it takes a special event like this to bring out the child in all of us.
The set itself was cool -- I was surprised how much I had forgotten, and how quickly it all came back. I enjoyed one kid yelling at the Rocking Chair factory, hoping that Corny would come out and talk to him. I apprecitated that kid's enthusiasm. I also appreciated that he was too old to think that a puppet was a living, thinking creature. Looking back on the whole day, I think the number one lesson learned is: kids are stupid.
The number two lesson learned is that my girlfriend is awesome, since she agreed to stand in line with me and my brother despite almost no interest in Mr. Rogers. We made sure to reward her with a trip to another fine Pittsburgh institution:
You are staring at an order of large fries from "The O," a legendary eatery in Oakland (where Pitt is located). The extra large fills a whole cafeteria tray. But it's not just the french fries -- it's the attitude. The guy behind the counter really gave the impression that he would have been OK with me bursting into flames. I wasn't even holding up a line. He just wanted me to die on the spot. That's the kind of professionalism I expect from greasy spoons. Well done, you hateful man.
As to the delicious fries: Many cities have signature food items; Pittsburgh has settled on disgusting amounts of fries, sandwiches with french fries in them (Primanti Brothers) and crappy cheap beer (Iron City). That pretty much tells you everything you need to know about Pittsburgh. It's a great town.
Thanks to brother Dave for being a great host and taking these fine pictures!
---
Flight 93 Memorial
April 8, 2012
On a drive from Pittsburgh to Washington, we decided to break up the journey with a lighthearted visit to ... uh ... well, the spot where Flight 93 crashed. They opened the memorial site on Sept. 11, 2011. There were a lot of cars there, considering it's the middle of nowhere. The Lincoln Highway (US 30) is just a few miles away, but as it is no longer 1930 that road doesn't have the bustle it once did. It's an interesting experience. After turning off US 30, you drive down a road for about three minutes, along the countours of some wind-swept hills (it's about 2,000 feet above sea level). At the end, there's a memorial plaza, and a brief recounting through signs of the events of Flight 93. When it went down, the plane was about 25 minutes from D.C. (probably to crash into the Capitol) -- but through a quirk of fate, it had taken off about 25 minutes late. An on-time departure would have prevented the passengers from finding out about the World Trade Center in time to foil the terrorists on their flight.
The impact crater has been repaired, and now there is just a boulder markign the actual crash site. You can't walk up to it. But you can stroll along the plaza, and at the end there is a wall of white marble panels, each one engraved with the name of a passenger. The wall follows the flight path of the plane as it headed to the ground.
It's hard to imagine having to make the decision that those passengers did.
---
Fallingwater
July 2, 2012
The genius of Frank Lloyd Wright was giving people what they wanted in a building, after informing them what it was that they wanted. There have been many uncompromising a-holes in the history of artistic endeavor, but very few managed to carry out their visions so completely.
Which is all the more amazing when you consider the medium. Painters and actors make things to be observed; architects make spaces to interact with in a thousand different ways. Wright colored to the edge of page, carefully picking out the building materials, surveying the surroundings, anticipating the needs of the owners (as he saw them) and designing all the furniture. He thought about people's passage through every hallway, kept visual themes consistent down to the smallest detail, then showed up at your house from time to time to slap the paintbrush out of your hand if you got any ideas. I've been in a few of his houses now, and it's like he's always in the room with you. That probably gets creepy during sexy time with your wife, but it's very impressive.
Fallingwater is considered by a lot of people to be the masterpiece of "organic" architecture, and after years of being vaguely aware that I should visit, I finally pulled the trigger. Me and some of the superfriends had enjoyed a trip to the Pope-Leighy house in Northern Virginia a little while back; that same crew got back together and headed to Pennsylvania.
The land started out as the mountain retreat for the Kaufmann's department store in Pittsburgh; as the Kaufmann family snapped up more land, they decided they wanted a little more than a cabin, and that going to the mountains was less fun with all of your employees along. Edgar Kaufmann was a patron of the arts, and his son was studying at Wright's architecture school. When he decided to build a new vacation home (this was the 1930s) he got the master on board. The Kaufmanns wanted something near the property's stream -- Bear Run -- which they adored.
Wright informed them that they wanted a house on top of the stream. More specifically, on top of the waterfall. And to his credit, he made it work:
The house is a solid central core, anchored to the boulders around the stream, with long, flat branches sticking out at different elevations (they're cantilevers, if you're scoring at home). In theory the different branches can "float" unsupported over open space, as the core and the hillside bear the weight. In practice, they were using 1930s construction techniques and whatever diseased labor they could scrap together at Depression-era prices, plus Wright's assumptions were a little bit off, so over time it was going to collapse. They shored it up about a decade ago with some well-concealed steel beams.
Other than that, it's a very naturalistic space. There are stone floors and walls, some well-concelaed concrete, windows to let in natural light and very big verandas, almost matching the square footage of the interior space. The Kaufmanns spruced the place up a bit with some of the art they had collected, but Wright really got to set the mood. The open-floor-plan dining room / living room has a stairway leading down to the stream, which acts as natural air conditioning and lets people rinse off in the stream if they want. Just like the Pope-Leighy house, horizontal lines are everywhere, and Wright made a point of using confined passages and low ceilings to transition visitors from man-made caves into rooms that seem to extend straight into the forest. (One of the fun stories they share at Fallingwater is that Wright was 5'7" and used his body as the analog for the appropriate height of ceilings; if you're anywhere near 6 feet, you're going to have some seriously claustrophobic moments.) You can hear the waterfall from all over the place, which is either a perpetual connection with the natural world or an unspeakable nightmare if you have a small bladder.
It really is a stunning space, and you have to admire the thought that went into every corner. Wright had some very odd ideas about comfort and practicality (people hated his kitchens), but who gets to live in a house with this much personality? I'm not talking about putting up your favorite black light posters to make a room your own. I'm talking about a room specifically built to match your personality. Or at least what Wright thought your personality was.
It's $22 bucks to take the regular tour, and we were able to drag things out a bit by asking our very nice guide all kinds of annoying questions. You learn alot about Wright, but also the Kaufmanns, who seemed like neat people, for Depression-era industrialist overlords. It's amazing what you can do if you know a famous architect and you have a lot of money.
We had a similarly amazing experience as we were looking for a good place to have lunch.
---
Gettysburg Battlefield
October 6, 2008
It took some doing, but I suckered some friends into seeing Dwight Eisenhower's Gettysburg home. And I did it by promising a trip to see the battlefield. Because who doesn't want to spend a Saturday wallowing in the gore of history? We hit up the Cyclorama, which back in the late 1800s would have been the closest thing to HD television; it's a big painting that completely encircles a room and shows the height of the 3rd day of battle, in exciting OIL PAINT! Plus they have a light and sound show to go with it -- FAR better than Pink Floyd. I can't reproduce it here, but we did walk around the field afterwards, and if you were a reasonably patriotic (or unpatriotic, depending how you look at it) guy in 1863, there's a chance this is what you would have seen on July 3:
The top is the view of a Union soldier, minus a bunch of smoke and some dead bodies, a few seconds before a line of 12,000 men a mile wide stepped out of the trees and started coming for you. With guns, to boot! The bottom is what Johnny Reb would have seen looking back the other way, right before he got to march across an open field while his friends were turned into Grade-D hamburger all around him.
That's the field for Pickett's charge at the Battle of Gettysburg, and had things turned out a little different that day we might all be cleaning our teeth with banjo picks right now. Or, projecting out, maybe we'd all be speaking German. Or Tagalog! The world would be different, is what I'm getting at. The Confederates made it to the Union line, but it took everything they had just to get there, and blammo, Lee loses, the war turns around, and the South loses. More Americans died in 3 days at Gettysburg than in five plus years of Iraq, but in return we got to have one of the best countries in history. Sometimes war is the answer! Bumper stickers be damned!
I don't know what the pep talk would have been before Pickett's charge, but it must have been a good one, because I don't think I'd be terribly motivated to walk a mile slightly uphill in the open in July heat wearing a wool uniform toward guys with cannons and guns defending a fortified position. I would stop to tie my shoe, or say I had something in my eye, or take an informal poll amongst my colleagues to see if anyone would maybe, perhaps, be interested in shooting our commanding officer in the face repeatedly and then heading off for a drink.
But it could have been worse! You could have been asked to run up a STEEP hill.
That's Little Roundtop on the top and Devil's Den on the bottom. To think you could have stopped to play amongst the boulders, right before a Confederate stabbed you in the back on July 2. Whee!
Of course, with all those dead people, you need a cemetery, and the dedication of said cemetery is what brought Lincoln to Gettysburg on Nov. 19. He wasn't the primary speaker. How the president of the United States and commander in chief of the Army during an active civil war doesn't get top billing, I'll never understand, but Lincoln actually spoke second, after a TWO HOUR speech by some other chump lost to history. Today there's a big monument where the speaking platform used to be, and a plaque with the full speech. Plus a neat tribute from visitors:
Respect
If the children are our future, in a lot of ways, the past is screwed.
I don't think you have to walk around a battlefield in deadly silence, but there are some things that require pretty basic respect, like, oh, I'll go out on a limb here .... cemeteries. When we got to the Gettysburg cemetery, a group of kids was screaming at each other, and some were actually skipping over top of graves. Skipping. And no parents thought to stop them.
Over at the Virginia monument (at the center of the Confederate line that advanced during Pickett's charge), one kid showed his respect by repeatedly making fart noises. And no parents thought to stop them.
Finally, at Little Round Top, a few kids thought it was fun to grab stones off of one of the walls (real or replica, does it matter?) used by Union defenders and start throwing them down the hill. And no parents thought to stop them ... but my roommate did! He yelled at them.
I applaud this. No one does this because it's thankless; best case scenario, you get no reward, worst case, you are harrassed by angry kids or horrible parents who yell at you for trying to do the job they aren't doing. We should all snap as much as possible, if only to restore moral order to the universe. Admit it, you feel good when someone hauls off and yells so angrily at teenagers in a movie theater that they're shocked into silence. And you aren't completely disgusted by a guy who punches a teenager in the face when they cut the line on him at McDonald's.
In conclusion, it takes a village. Thank you and good night.
---
Groundhog Day
February 5, 2009
On Saturday I went, for the first and probably last time, to Groundhog Day. Not in Ohio, or New York or Georgia, or any of the other places that worship false rodents. I went to the real deal: Punxsutawney, Pennsyvlania. The weather capital of the world. Mount Washington, eat your heart out.
If you're doubting it's the real deal, guess again. The helpful people at groundhog.org confirm that Phil is the true groundhog, that he's 122 years old, that he maintains his youth thanks to a magical potion given to him every summer which extends his life by seven years (so taking it every summer seems a bit much), and that he conveys his weather predictions by speaking groundhogese to the President of the (Unholy Dark Order of the) Inner Circle (which refuses to use its magical life-extending elixir for the good of humanity). The president is the only man alive who can understand this language, so god forbid he get hit by a sausage truck, or a cheez tanker, or any of the other large vehicles whipping around Western Pennsylvania on a daily basis.
The Prognosticator of Prognosticators makes his appearance at around sunrise -- 7:25. The plan for my friends and I (staying in cabins 20 miles away) was to leave around 5 a.m for Punxsutawney. But a very helpful waiter at Ruby Tuesday ("So Much More Than a Salad Bar") informed us, around 9:30 p.m. on Friday, that this was a horrible plan. The gates to Gobbler's Knob (Phil's Feb. 2 home, insert your obvious joke here) open at 3 a.m., and apparently more than a few people don't bother with sleeping the night before, because waiting for Phil is a lot like waiting for Santa Claus, only with fewer presents at the end and more pot-smoking fraternity burn-outs during. The anticipation is like black coffee, if that coffee was poured straight onto sensitive parts of your body in addition to serving as a beverage. What I am getting at is that YOU CANNOT SLEEP ON GROUNDHOG EVE.
So we formed a new plan.
1) Wake up at 1:45 a.m. and bundle up. This means different things to different people. The temperature was low 20s with an occasional breeze. Ice and snow on the ground, but no real precipitation. I wore jeans, hiking sneakers, a hat, gloves, and a scarf. I also had an Underarmor shirt, a relatively light sweater and my winter jacket. Several of my friends dressed up like they were preparing to land on Hoth, with multiple socks, fleeces, jackets and snow pants. Yes, snow pants. Who was vindicated? Chris White total extremities lost: zero. Number of snow angels made, ski slopes skiied and white-washings given by people in snow pants: zero. Relative difficulty of Chris White using a Port-a-John (scale of 10): 1.5. Relative difficulty for people in snow pants: 8.2. But hey, different strokes for different folks.
2) Drive to Punxsutawney. This was a 20-mile drive down two-lane roads; on the way we passed signs for towns named Desire and Panic. As you can see right here, from Rt. 119 you get to Panic by going through Desire. Ahem. The plan was for our two cars to stop at the County Market grocery store on 119. At around 3:30 a.m., we got two of the last parking spaces in a very big lot. This is because the County Market was a shuttle stop for the buses going to Gobbler's Knob, 2 miles away. There was, at around 3:30 a.m., a very big line. So ...
3) Walk to Gobbler's Knob. 2 miles! Uphill! In driving rain! With burning paper bags for shoes! And rickets! Or, more accurately, two miles uphill on a residential street with a bunch of houses featuring Christmas lights and Groundhog Day decorations. We also got to pass the Post Office, with this excellent statue outside:
The walk keeps you warm, and once you get close enough, the bright lights and music on the horizon give you the strength to carry on. I am not lying when I tell you that, as we rounded the final bend, "I'm Alright" from Caddyshack started playing. And I wept tears of joy.
4) Set up base camp. By 4:15ish, there were already a few thousand people there. The knob is basically an outdoor amphitheater without any stupid high-society frills, like seats or a noticable police presence. The stage has a stump in the middle, with a door in the stump, and Phil allegedly behind the door (though he is most likely in a subterranean green room with any number of groundhog prostitutes, snorting magic life elixir out of their bellybuttons). We were positioned to the right of center, far enough back to avoid any angry groundhog attacks.
5) Enjoy the show. There is non-stop activity on the stage; one lucky guy from the (Unholy Dark Order of the) Inner Circle gets to serve as the emcee. You may remember these guys from the movie "Groundhog Day," in that they are the only accurate depiction (along with maybe "The Pennsylvania Polka") of the event. They have top hats and wear black coats with tails. Quite a few of them seem to be overweight, and they have beards and moustaches, probably because facial hair comes with the outfit. The emcee was nothing short of phenomenal -- not as a master of ceremonies, where he basically just herded the show along, but as a dancer. Every time music would play, he, along with a group of girls in day-glo t-shirts, would start busting off dance moves. The girls had to do mildly choreographed stuff; the emcee had the option of freelancing. Think "drunk funny uncle at a wedding" times 50. He was busting out the waiter, the stewardess ... anything that involved pantomime. And he was great at it. Plus he changed hats depending on the song. He had a crown, the top hat, a fuzzy 1970s leopard-print pimp hat ... he kept it going for four hours. Amazing stuff.
As for the girls, they opted to nickname themselves after natural disasters. Because "Avalanche" is always flattering for a girl.
There were also a few cheer-alongs, a pneumatic t-shirt cannon, and the sad, sad case of Adam Mooningham. Adam, the "winner of an Internet contest," was called to the stage at 4. And 4:15. And 4:30. And 4:45. And 5. The host went into a "newlywed game" style event. Still no Adam. At the end of the game, one of the (unmarried) losing couples, from Punxsy, stayed on stage, and the guy made a fairly nice public proposal to his girl, who accepted. Cue Adam Mooningham, who finally shows up with his lady (they came from Florida for this), and right then and there must follow that proposal with the one he'd been planning. But the thunder, as they say, had already rolled. Sad.
Fortunately, the gods took pity on Adam Mooningham, for right after that, a third guy brought his lady to the stage, and gave this propsal in a mildly buzzed frat guy voice, looking mostly at the crowd the whole time. I'm paraphrasing, but the spirit is there: "Hey I just want to give a shout out to all my homies and my family. Yeah! Groundhog Day! Give it up! Anyhow, [girl's name], we've been coming to this thing for three years now and will you marry me? [girl, shockingly, accepts] Yeah! Give it up for Groundhog Day! San Demas football rules!" That stain pretty much covered up Adam's. ROMANCE!
6) Enjoy the crowd. There were quite a few families, and quite a few curious people there just for a good time. And there was more than quite a few drunk yokels, including one guy from Ohio State who kept yelling for the dancing girls to take their tops off, bummed a cigarette AND snuff in a 10-minute period, dropped about 45 F-bombs while standing five feet from a family with three little kids and then disappeared into the crowd to try and get closer to the stage. I can only hope he was sacrificed to Phil by the Inner Circle. And who could forget this guy:
7) Stay warm. Not the easiest thing in the world -- you couldn't go too far afield or walk laps, or you'd risk losing your spot. There was a snack bar, and I had a hot dog with some hot chocolate, because two things with hot in the name can't be bad together, right? Right? There was also a bonfire, which was mostly taken over by the hardcore drunks. It also had some terrible consequences. Allyson, who carries about 80 pounds less body fat than the average Chris White, had to thaw out a few times. On her return, we noticed several burn holes in her hat and jacket where embers had landed. The hat was burned clean through, but her hair was fortunately untouched. Because people with flaming hair tend to put a damper on most social situations. Not all social situations, mind you, but most.
In the end I was OK with the possible exception of my toes, which lost feeling for about two hours. But that's why the good lord gave you 10 toes! So that three or four of the smaller ones could turn black and break off in your shoe.
8) The MAIN EVENT! As the sky starts to brighten, they part the crowd. The rest of the Inner Circle comes to the stage in full dress. They are introduced, including weather-related nicknames that they probably insist on, even around the house. The ceremony is explained to the crowd ... people are congratulated for being true believers ... chants of "Phil!" fill the air ... and then, at 7:25, a gloved hand reaches into the stump and pulls out THE GROUNDHOG! Who appears to be whacked out of his mind on cough medicine or some other kind of downer. He's presented to the crowd, Lion King style. Then he's placed on the podium. The president puts his ear down to Phil's mouth. And then Phil LUNGES AT THE PRESIDENT'S NECK AND A FOUNTAIN OF BLOOD SQUIRTS EVERYW ...
OK, fine .. What actually happens is A SHOT RINGS OUT! Phil has been hit by sniper fire, blowing his heart all over the stage! Then one by one, bullets riddle the members of the Inner Circle! As the crowd stampedes wildly, towering grey storm clouds materialize and a bone-chilling wind sweeps the knob! For without Phil's prediction, we are now doomed to Eternal Winter ... unless a scrappy band of preteens can somehow discover the magical life-giving spring far beneath the earth and free the groundhog prince from the clutches of the CIA!
Or, the guy gets the prediction, then announces to the crowd that there's six more weeks of winter. People boo. Then they tell you, in the span of about 30 seconds, to go away. Sigh.
9) Get the hell out of there. You do this by either standing and waiting for a bus, which would probably involve losing a toe to the cold, or walking through a corn field back to the road leading to town.
Once you get back there (in daylight this time), there are pancake breakfasts in town (which looks nothing like the movie), and souvenir shops, and funnel cake stands, and arts and crafts displays. But most of those involve standing in a line outdoors, so we opted instead to drive back toward the cabins and have breakfast at a diner we saw the night before in Dubois.
At that point, they were putting up this sign:
Needless to say, it piqued our interest, so we came back to see the finished result:
10) For the record, the pancakes there were terrible. It was a great morning.
Bonus pictures
In case you're sick of the 70 degree weather (for Washington readers), here's a reminder of a colder time (i.e., four days ago). These are from the campsite where we were staying:
---
Philly: Eastern State Penitentiary
November 4, 2009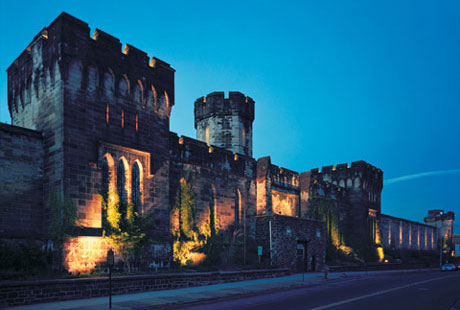 If you've never been to Eastern State Penitentiary, it's easy to find. Just go to the middle of Philadelphia and look for the huge evil castle. If you hit the oil refineries you've gone too far.
It should come as no surprise that such an evil building is a product of the most evil sect to ever walk the Earth: the Quakers. The plan was to co-opt the Philadelphia prison system as a means of getting cheap labor for their oat factories. By isolating each prisoner through solitary confinement, they could break the spirit of each worker within days, rendering them into ruthlessly efficient milling machines. The profits from this evil enterprise were the financial foundation of the Richard Nixon campaign, the keystone in the Quaker plot to open our nation to Chinese economic takeover. I'd explain the dark alliance between the Chinese and the Quakers, but you're smart enough to figure out anything THAT obvious.
In summary, Eastern State is the sort of building that looks haunted in the daytime, so imagine how much better it is at night, with 50 people jumping out at regular intervals to make you cry! "Terror Behind the Walls," which runs every fall, is billed as the best haunted house in the country, and why not? It's big, it's naturally spooky and they produce the hell out of it. You work your way through different parts of the prison (processing, the infirmary, oddly enough not the showers), and between the fog machines, lighting effects, hidden panels and people popping out of nowhere, you're going to scream once or twice. It's like a football game where an offense is going to run, and the opponent knows it, and the offense steamrolls ahead anyhow. You know what's coming and you can't do much to stop it. A hallway of eight guys in prison jumpsuits plus a strobe light equals scary (unless you're at the grand opening party of an Urban Outfitters, in which case it equals douchey).
It wasn't terrifying, exactly -- for that you'd have to have an empty, quiet and dark prison -- but even my brother, who could kill me with his bare hands and has probably considered doing so on several occasions, yelped a couple of times. My girlfriend, who daily faces the horror of a future with me, also gave the whole experience a thumbs up. Only 361 shopping days to Halloween -- start budgeting for Eastern State now.
Seriously, budget. It costs a ton. The Quakers are up to something.
Fear Factor
I've never been much of a haunted prison kind of guy. Family legend has me losing my mind on the Haunted Mansion ride at Disney World. And my dad can't stop telling the story of how I hid behind the couch when watching "Alien." He leaves out that I was about 9 years old and shouldn't have been allowed to watch "Alien," but why let the facts get in the way of humiliating your son in front of your friends? No, movies and pageantry have never really been my cup of scary tea. Call me old fashioned, but I like my horror delivered through traditional means.
Bank statements and pregnancy tests.
---
Brandywine River Museum
November 5, 2009
I don't know art, but I know what I like. And I enjoy paintings of burning seagulls.
If that's what you like, then do yourself a favor and get to the Brandywine River Museum. Jamie Wyeth's "Seven Deadly Sins" series shows all those vices through seagulls, and one of the studies he painted while preparing is a seagull, on fire, flying directly at you out of a huge fireball. Sadly, there were no prints of this study available in the gift shop, or it would be hanging over my bed right now.
Nothing says "it's go time" like a burning, screaming seagull. Trust me, I'm a romantic.
Art museums are your friend when you travel a lot and work at night, and over the last few years a few artists have really stuck with me. I have an N.C. Wyeth print (from Portland, Maine) hanging over my TV and an Andrew Wyeth print (from Toledo, Ohio) in my dining room; about two years ago I pointed out Rockwell Kent as a neat guy.
And yet somehow, I had never visited a museum 30 minutes from my parents (I drive past it every time I go home) that is dedicated to the Wyeths, who have been the economic engine for Chadds Ford, Pa., for about a century. The exhibits are great. The N.C. Wyeth gallery includes all the illustration paintings he did for "Treasure Island," and even the biggest art skeptic has to enjoy a large painting of man with a knife in his teeth. The Andrew Wyeth collection has plenty of the usual muted, detailed and oddly compelling temperas that are his signature; the guy knew how to make a captivating image and he wasn't a carbon copy of his dad. And of course, Jamie Wyeth painted burning seagulls, which is awesome. If you ever feel uncomfortable with your family, imagine being the untalented Wyeth at Thanksgiving dinner.
For me, the highlight had to be the special exhibit: Rockwell Kent. I was impressed by a few arctic seascapes I saw in Portland, but here they had a sampling of his entire career and a little more back story. Turns out, he was a raging a-hole! The general pattern of his life: paint for a bit, have a minor mental breakdown (often brought on by womanizing and the resulting divorce), flee to some remote and very cold spot (Greenland, Alaska, etc.) until the heat dies down, and then settle in to paint the stuff from his last vacation. You could call it "being a man's man," except Rockwell was also an anti-Semetic, and at the end of his life he ended up donating most of his work to the Soviet Union. I don't know if he ever met Ernest Hemingway, but I can definitely see them choking eachother on the floor of a bar.
But a-holes can have talent. Kent did some really swank painting and illustration work, and I was blown away by his inked illustrations for a deluxe edition of "Moby-Dick." I wasn't impressed enough to actually read "Moby-Dick," but the thought did cross my mind for about four seconds. And that, right there, is the power of art.
Here's my favorite non-Kent thing on display, N.C. Wyeth's "In a Dream I Met General Washington." The Wyeths and the museum are from Chadds Ford, home to Brandywine battlefield, so George figures into the local history. When I meet General Washington in my dreams, he is playing right field for the Phillies, but I respect N.C.'s artistic vision nonetheless. I think it's young Andrew at his feet.
---
Phillies Victory Parade
November 3, 2008
One of the great things about my lifestyle is that every time my favorite sports teams win a world championship, I can drop everything and go to the parade. EVERY TIME. What I'm getting at here is that I was in Philadelphia Friday with 1 million to 2.5 million fellow fans, screaming like a girl as my favorite team rode past on floats. It was fun! Some notes:
City officials begged everyone to take public transportation. Me and my dad got on a light rail line at 8:33 with about 15 stops to Center City. After the fourth stop or so they couldn't get anyone else on the train, and we passed a lot of platforms filled with angry people in Phillies gear (that might be a redundant description). Apparently, on the next train, the cars were full with 14 stops to go. Thousands of people in Delaware County wanting to go to the area's first big victory parade in 25 years ended up standing on train platforms, because SEPTA didn't bother changing the train schedule. But don't despair kids! These things come along fairly often. Oh, wait ...
We got downtown around 9:15, and a lot of people were already pretty drunk / drinking in public. And yet such was the good will generated by the noble World Champions, there were none of the racially motivated beatings we would so often expect from massive public drinking in Philadelphia. Hooray for sports! Dad and I walked Market Street (the start of the parade route) to City Hall, then turned down Broad Street a few blocks (where all the crazies would be); the crowds were two deep on the route when we got there and between eight and 20 deep, sidewalk permitting, when the parade started. Almost everyone was wearing some kind of Phillies gear, and a lot of it was really, really ugly World Champion shirts, the kind of shirt that you'd pay $30 for and then, two weeks later, regret buying for the rest of your life. I bought eight!
When the truck carrying rightfielder Jayson Werth went past, he dropped his digital camera (all the players were taking shots of the crowd) and it started to fall to the street. He lunged and picked it out of the air just in time, then held it up to show the crowd, like he had just made a shoestring catch. It was awesome.
A lady was standing next to us on the route with three teenage girls. They were drinking juice. The lady pulled out a bottle of vodka, spiked all their drinks, then started swigging straight from the bottle herself. It is so refreshing to see parents taking an interest in their children.
Speaking of which, on the train ride home, we were stuck on a train platform for two hours, at it was jammed. In front of us were three women along with three little kids, who were having a rough go -- when you only come up to most people's waists, standing in a packed crowd isn't a great way to spend an afternoon. Every time someone would force their way through the crowd, the kids were getting body checked. One group of textbook sullen South Philly teens (no prospects, ugly, blank expression, proud of it) shoved through with a really condescending "excuse me," prompting one of the women to say, "If you knock down my kid I will beat your ass." To which a teenage girl answered: "F*** you, you fat b****!" Sometimes I miss my hometown.
And now some pictures. First up is the view looking at Broad Street, the second is the Phanatic dancing on a truck near the front of the parade. The third is the Union League on Broad Street (remember "Trading Places"?) and the last is a pretzel vendor. Enjoy the happiness.
---
Steamtown
October 27, 2007
The miracle of film developing has paid off yet again ... here are some exciting shots from Steamtown in Scranton. If you like trains, go visit. If you don't like trains, what are you, some kind of communist?
If you travel the Midwest, you do see a lot of grand trunks. And yea, there is much junk in said trunks. Here's a different kind.
This next car really symbolizes what we all think about New Jersey.
I think it's great that a New Jersey company uses a New York monument for its logo. This is right up there with putting Washington Crossing the Delaware on the state quarter (the Delaware is only half New Jersey's). New Jersey: Get some pride, would you?
Next, did you know they have trains in Canada? I assumed it was all dog sled. But what do you know!
Finally, this is where clouds come from.
And that is what I learned at Steamtown.